Responsible Procurement Group
About
Upcoming meetings
Resources & other info
LUPC and SUPC now run a joint Responsible Procurement Group to enable members from both consortia to attend events with expert external speakers, and member case studies with hands-on, practical experience advice to share.
The group will discuss key topics within their institutions, ways of implementing best practice across a range of commodity areas; as well as excellent opportunities to network. The meetings are currently online and are likely to remain so, but we would hope to eventually have some face to face events to enable greater networking between individuals.
Membership of this group is open to:
Responsible Procurement practitioners or those with a special interest in sustainability
Procurement professionals with responsibility for sustainability and responsible procurement
By participating in this group, members will:
Learn about sector resources to support members in implementing responsible procurement practices
Discuss trends and share operational best practice for relevant products and services
Have access to email distribution lists for easy discussion with colleagues
You can read the Terms of Reference for the group here.
For more information about joining the Responsible Procurement Group or attending the next meeting, contact Marisol Bernal.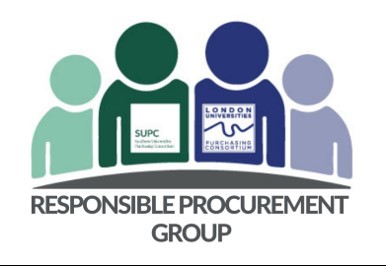 The next Responsible Procurement meeting will be in February
On this page, you can access the resources, presentations and recordings from previous meetings and events held with, or for, the LUPC & SUPC Responsible Procurement Group. Please get in touch with Marisol Bernal if you have any questions.


February 2022
LUPC & SUPC Responsible Procurement Group: Jiteen Ahmed, Head of Technical Services at Aston University, on a cradle to grave overview of sustainable laboratory procurement.

Sustainable Laboratory Procurement - Aston University: presentation slides & presentation recording
November 2021
Our LUPC & SUPC joint Responsible Procurement Event 2021 was held on 10 November. We heard from Clyde & Co. on creating a diverse workforce; from The University of Nottingham on their Slavery Free Campus and from the Environment Agency on carbon offsetting.
The webinar recordings will be available shortly but you can access the presentations slides now here:
Webinar 1 - Creating a diverse workforce - Clyde& Co
Webinar 2 - The Slavery Free Campus - Uni of Nottingham
Webinar 3 - Carbon Offsetting - Environment Agency
September 2021
Andy Davies, and Kimberley Lewis at the Natural History Museum presented on their responsible procurement activity at this meeting. You can view the recording of their presentation and the Q&A here, and the presentation slides here.
February 2021
The London School of Economics and Political Science (LSE) presented their Sustainability Strategic Plan, which includes initiatives such as becoming the first carbon-neutral university for all measured emissions for 2020/2021 at this meeting. To access a recording of the presentation, click here.
4 November 2020
LUPC and SUPC held their joint Responsible Procurement Event 2020 on 4 November. We had presentations from the Ellen MacArthur Foundation and the University of Bristol. Read a summary of the event here and you can access the slides and recordings here.