UKUPC Conference 2023
Date: 06/09/2023 09.00 - 07/09/2023 13.30
Location: University of Exeter
We are excited to announce that the UKUPC Conference 2023 (formerly known as COUP) will be taking place 6 - 7 September 2023 at the University of Exeter. LUPC and SUPC are working in collaboration to deliver this event for all members of UKUPC, bringing together procurement professionals from across the sector to a conference that cannot be missed!
What is the UKUPC Conference?
The only HE-specific national conference on procurement,
An exciting line-up of professional development sessions and insights,
An exhibition of 70+ framework suppliers,
Opportunities to connect with attendees through the conference CPD programme and social activities.
DELEGATE INFORMATION (UKUPC Members)

Delegates can arrive on Tuesday 5 September 2023 from 3pm, ready for the start of the main conference sessions at 9am on Wednesday 6 September. The conference will finish at 1.30pm on Thursday 7 September.

Our full conference packages, offering exceptional value, are NOW ON SALE to UKUPC members:
Other Conference packages
The following tickets will be on offer (subject to availability) from 22 May 2023: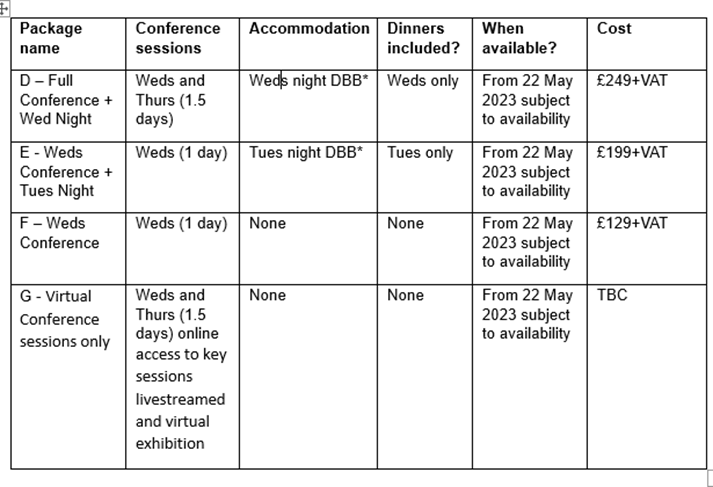 *DBB – Dinner, Bed & Breakfast.
All in-person conference days are inclusive of lunch and refreshments.
BOOKING INFORMATION
UKUPC members can book tickets here.
Please note, delegate bookings arefor UKUPC members only. Any supplier or non-member bookings will be cancelled and refunded less the cost of credit card fees (£7.50+VAT).
Please select the correct ticket option at time of booking, dependent on whether you are paying by card or wish us to invoice you.
You will be asked to select the breakout sessions you wish to attend (to give us an indication of attendees for room booking purposes).
To help you select your preferred breakout sessions, please see the UKUPC Conference Agenda for information on the conference programme. N.B. conference sessions and speakers may be subject to change.
We hope you can join us, and please do share this email with any colleagues (at member institutions) who may benefit from attending.
International visitors from university procurement teams are welcome to attend the UKUPC Conference 2023. Please contact Suzanne Picken if you wish to attend.
SUPPLIER INFORMATION
***Exhibitor bookings are NOW OPEN***
The conference exhibition, open to UKUPC framework suppliers only, will provide access to 200+ HE procurement professionals.
A range of 2m x 2m, 3m x 2m and 3m x 3m stands (£3,150 - £3,850 + VAT) are available.
Suppliers on UKUPC framework agreements can book an exhibition stand here.
Please note delegate tickets are for members only and are not available to suppliers.
For any queries, please contact Suzanne Picken, head of membership, marketing and communications, LUPC.