LUPC members can now access the re-tendered Servers, Storage and Solutions National Agreement (SSSNA) led by SUPC. This improved agreement provides a compliant and responsible route for universities to procure servers, storage and solutions, including converged infrastructure and end to end solutions.
Offering a cost-effective procurement option with access to a wide range of reputable suppliers, SUPC expects over £250m in university and public sector spend throughout the four-year framework. The agreement will run from 1 February 2023 until 31 January 2025, with the option to extend by a further 2 years.
The main changes from the previous agreement include:
New OEM suppliers, NEC and Pure Storage who are new to SSSNA and SUPC, offering alternative solutions and different design approaches.
Increased competition and innovation on Lot 5

13 suppliers
7 new suppliers.

Quarterly supply chain reporting in terms of workers' rights, in collaboration with Electronics Watch.
Improved warranty terms.

Standard is five years (as opposed to three years).
Options to increase up to seven years.
Key benefits of using the Servers Storage and Solutions National Agreement:
Open book pricing, offering transparency
A wider choice of suppliers to allow for improved competition at call-off
An easy and compliant route to market for participating organisations
User guides, support, and templates.
The following suppliers have been awarded to the agreement under five lots: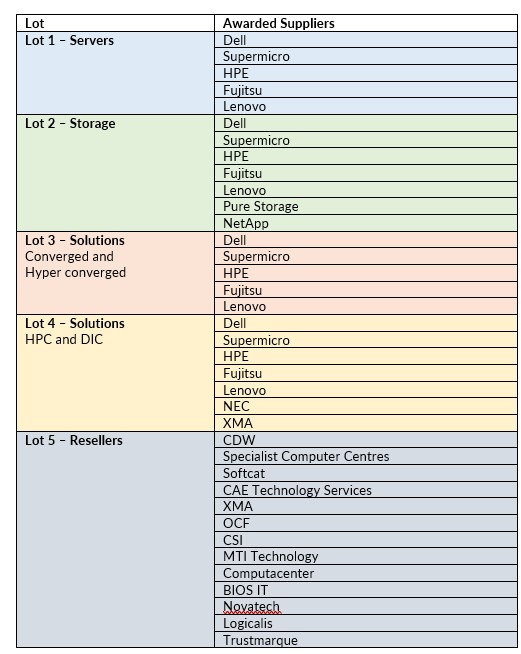 How do I call-off from the framework agreement?
Call-off from this framework agreement is by means of direct award (ranking) or further competition. In addition, institutions may also use the desktop calculator, for Lots 1 and 2 only) to amend the criteria by up to 20 percentage points to reflect their local requirements.
How has sustainability, equality and diversity been considered as part of the tender?
Sustainability is of key concern to the HE sector and our suppliers are encouraged to operate and promote sustainable practices.
Suppliers are evaluated in terms of their approach to:

Modern Slavery and ethical treatment of workers in their supply chain
Supply chain strategies for ethical raw material sourcing
Compliance to WEEE regulations and reporting
Design strategies to facilitate reuse, recycling and recovery of materials
Carbon reporting
Further information:
Launching the framework, new Head of SUPC Leigh Kopec says: "It's vital we continue to strengthen corporate social responsibility throughout HE procurement. This new SSSNA framework shows our commitment to working with suppliers that share these aims. Collaborating with Electronics Watch is an important step in the process and provides enhanced monitoring at a framework level. This will help us work closely with suppliers to encourage greater transparency and make continuous improvements to workers' rights in the supply chain."
Full agreement details including how to use the agreement are available through the HE Contracts Database.