LUPC members can now access the re-tendered (National) Education Recruitment Advertising and Resourcing Services (NERARS) Framework.
Led by Southern Universities Purchasing Consortium (SUPC) and tendered in conjunction with the Universities Advertising Group (UAG), the framework has been extended to include student recruitment marketing. The retendered agreement provides a compliant and responsible route for universities to procure recruitment advertising and student marketing services.
Offering a cost-effective procurement option with access to eleven reputable, specialist suppliers in advertising, recruitment and marketing, SUPC expects in excess of £60m in university and public sector spend throughout the four-year framework. The agreement will run from 8 March 2023 until 7 March 2027.
The agreement is open to all LUPC members, as well as those from the following consortia: APUC, HEPCW, LUPC, NEUPC, NWUPC, SUPC.
The main changes from the previous agreement include:
The addition of a new Lot: 'Student Recruitment Marketing' (Lot 2);
Increased overall competition and breadth of services, with 5 new suppliers joining the framework, giving access to a total of 11 suppliers;
Change in the ranked order for education recruitment advertising and resourcing (Lot 1), including the top-ranked company.
Key benefits of using the NERARS framework agreement:
Extended scope of services to be procured;
A wider choice of suppliers to allow for improved competition at call-off;
An easy and compliant route to market for participating organisations;
User guides, support, and templates.
The following suppliers have been awarded to the agreement under two lots: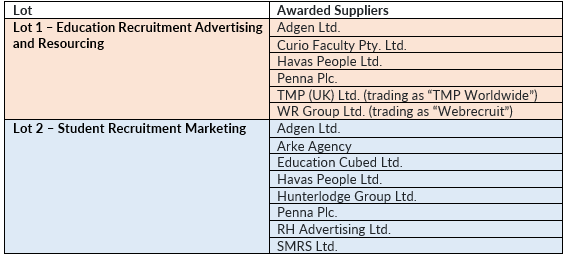 How do I call-off from the framework agreement?
Call-off from this framework agreement is by means of direct award (ranking) or further competition only.
How has sustainability, equality and diversity been considered as part of the tender?
Sustainability is of key concern to the HE sector and our suppliers are encouraged to operate and promote sustainable practices.
Suppliers were evaluated in terms of their approach to:

Modern Slavery and ethical treatment of workers in their supply chain;
Carbon reduction achievement and reporting;
Commitments to delivering social value including community and voluntary schemes supported.
Further information:
Launching the NERARS framework, Leigh Kopec, Head of SUPC says: "with the complex nature of student recruitment at home and internationally, we've seen a growing focus on marketing and advertising initiatives for many years and this looks set to continue. As universities compete to create the most engaging experiences possible for prospective students – and the fee income this can attract when done well – support is needed to make the most of digital journeys and media promotion. This new NERARS framework exists to help institutions make informed choices about their investment in advertising and marketing activities from trusted suppliers."
Full agreement details including how to use the agreement are available through the HE Contracts Database.