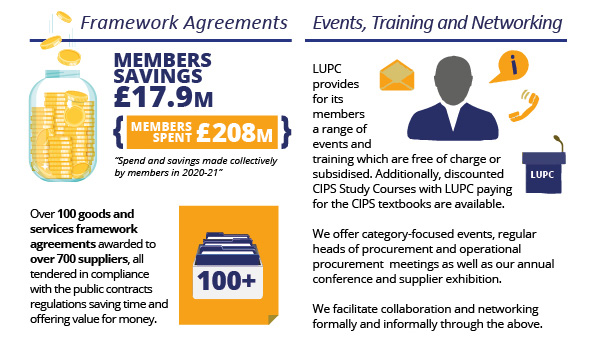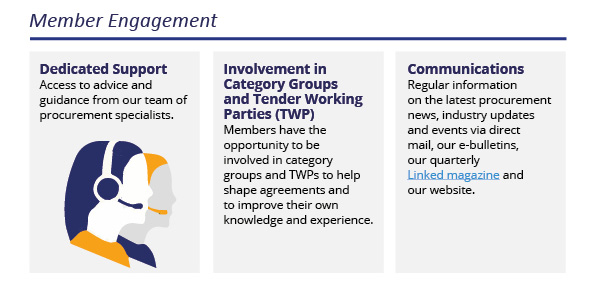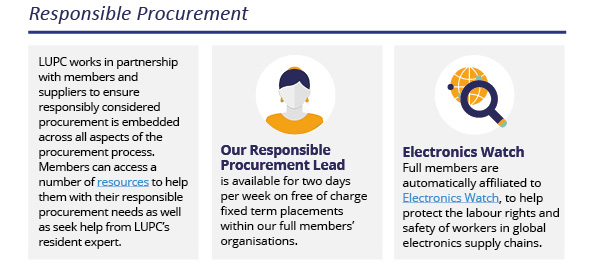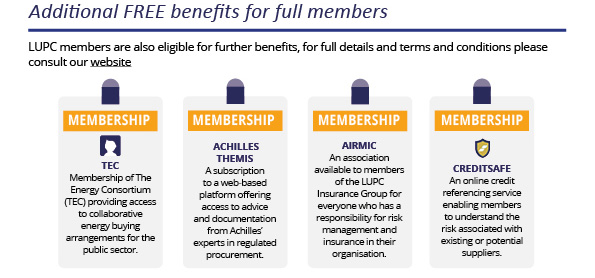 As a member of LUPC you will benefit from:
Our members' average return on investment through LUPC membership is 53:1, with organisations saving £16.7 million in 2018-19. By utilising any of our 100+ framework agreements, you will also recognise a reduction in time and tendering costs for both buyers and suppliers.
Public procurement is becoming increasingly complex and subject to litigation. All LUPC and UKUPC framework agreements are tendered by experts and are compliant with the Public Contracts Regulations.
LUPC has a diverse portfolio of professionally arranged agreements in place, and, based on your requirements, is constantly adding to this range. We also work collaboratively with other higher education procurement consortia so we can offer you the broadest choice of framework agreement and suppliers possible.
Members are at the heart of all LUPC's activities and are consulted on the shape and delivery of all framework agreements before launch or re-tender. Full members have voting rights to elect and join
LUPC's Board and Executive Committee
, ensuring we offer an organisation which is truly owned by our members, for our members.
HE Contracts is the framework agreements database. It provides all consortia members, nationally, with the information they need to use any framework agreements they are entitled to use.
How to access HE Contracts
General Access
All consortia members will be able to access HE Contracts for browsing framework agreement information, without the need to login. If you cannot see this information, please contact Suzanne Picken who will arrange access for you.
Individual logins
Members can register for individual logins, which provide a deeper level of access and any commercially sensitive information associated with the framework agreement. Please register for this access; approval is usually provided within 24 hours.
More information about logging in is available in the HE Contracts User Guide
YouTube videos on using HE Contracts:
HE Contracts Agreement Overview
HE Contracts Request For Quotation (RFQ)
Help and support
If you have problems logging in please contact support@hecontracts.co.uk
Available to full members of LUPC
With many members undertaking credit referencing using various techniques and suppliers, this offering aims to provide an online, fast and consolidated means of accessing this information in order to reduce business risk, while saving considerable expense against any present systems in operation.
The Creditsafe package provides the following main features:
Access to detailed company reports at any time
Organisation of 'tracked' suppliers into portfolios aligned to framework agreements or commodity areas
Receipt of email alerts every time a supplier in any portfolio has a change in their report
Control of which personnel receive the e-mail alert, by portfolio
No additional costs except on request of an international report, which will be on a 'pay as you go' basis.
The agreement with Creditsafe incorporates searches for International organisations however some of these may be chargeable. In order to manage this effectively, access to chargeable searches can only be requested through the NEUPC office. For further information, or to request a chargeable international search, please contact creditsafe@neupc.ac.uk
Creditsafe Support
For details on using credit safe, please review the Buyers Guide on HE Contracts.
For any account changes, including requesting a new account, please contact Roy Dennis.
In the event that you experience issues with accessing your LUPC Creditsafe account you can now request support directly via premier.support@creditsafeuk.com or 0800 028 4124.
Spend Analysis Tool (Contract Uptake)
LUPC is using the spend analysis tool developed by APUC to manage and categorise member organisation spend data. As well as using the tool to deliver LUPC's own Member Benefits Reports to members, LUPC is now able to offer all members this tool for free, to investigate spend directly within their organisations. Please note, this offer is only available to members who commit to sending LUPC their full spend data, which is normally requested in September.
Members who submit their spend are provided with a unique personal login to access the tool at cu.esolutions.org.uk. If you require any additional logins, for example due to a change in staff, please contact Michael Flagg.
Member benefits include:
Online analysis and increased visibility into spend
Unique personal login
Excellent reporting tool using features such as graphs and filters
Identify spend with SMEs
Access to up-to-date supplier MI for regular auditing of spend reporting
Accurate on/off contract spend (using supplier MI)
Category analysis of spend
Contract compliance with member's own contracts and new contract opportunities
Calculate 'typical' savings to be gained by redirecting spend through LUPC framework agreements
Support is available. For further information, please contact Michael Flagg.
Annual Scope 3 carbon emissions report: Using member spend data, we provide members with a report to help quantify your performance in this area of sustainability.
All full members of LUPC are automatically affiliated to
Electronics Watch
, the independent monitoring organisation which aims to help public sector organisations work together to meet their responsibility to protect the labour rights and safety of workers in global electronics supply chains more effectively than any single public buyer could accomplish on its own. Your affiliated membership provides you with access to guidance, resources and contract clauses that support responsible procurement, all at no additional cost. For further information, please contact our responsible procurement category manager,
Marisol Bernal
A free subscription for full members to Achilles' THEMiS, a web-based platform offering access to advice and documentation from Achilles' experts in regulated procurement. This benefit saves each member £550 per annum. *One login only per member. You can learn about all the tools, features and benefits of THEMiS in
this recording
. Contact
Jennifer.Smith@achilles.com
for login information.
LUPC is in regular contact with its full members to invite them to meet and discuss either specific category or framework areas of interest to them, or to advise on how to make the most of LUPC membership.
Members can contact anyone on the LUPC team, at any time, should they require assistance. If members wish to raise an issue at Executive Committee level, they can do so by contacting any of the Executive Committee members found on the governance page of our website.
A Procurement Maturity Assessment (PMA) is an independent detailed assessment of your procurement function and provides you with a bespoke action plan for improvement, a baseline to measure improvements, as well as benchmark scores against similar organisations.
The purpose of this is to help organisations to understand and improve the efficiency and effectiveness of their procurement functions which can, in turn, lead to significant efficiency savings.
For full information click on the Procurement Maturity Assessment flyer, email pss@reading.ac.uk or tel. 0118 935 7081
LUPC can provide members with competitively priced, professional procurement consultancy services to meet a range of short-term procurement needs for additional procurement strategies and activities outside the scope of our agreement portfolio.
Whether you need to run a tender competition for cleaning or security services, develop your documentation to meet public contract regulations requirements, or purchase a new concert hall organ, our consultants can deliver high-quality outcomes for you, and at a competitive cost.
We offer a wide range of services, from developing procurement strategy and capability and performance improvement to supplementing existing resource to meet short-term and project-based needs. Our consultants offer in-depth practical experience – not just management theory – to deliver savings directly to your bottom line.
This is a chargeable service for our members, albeit at a competitive rate. This comprehensive service can be used for any procurement under our framework agreements; in particular, we can provide a mini-competition service, designed with higher value transactions in mind to ensure your mini-competitions are compliant and deliver best value for money.
For a discussion or quotation, please contact Don Bowman.
An innovative, collaborative solution to procurement resourcing, led by and for our members.
Our shared procurement service, Ensemble Purchasing, has been operating since 2016.
Ensemble offers a complete, longer-term, shared procurement service to our members and was created to address the need for a professional, quality procurement resource within smaller organisations.
The current participating members are The Royal College of Music, Royal Academy of Music, Trinity Laban Conservatoire of Music & Dance, Regents University, The Royal College of Art, Ravensbourne University, The University of Roehampton, University of East London  and The Royal College of Anaesthetists. The service is owned and managed by its participating members, who each hold a seat on Ensemble's Board.
Good quality procurement professionals are in short supply, even in London. Ensemble supplies a sustainable, high-quality, professional and economical procurement service in the city at less than £350 a day. As it's a cost sharing group – owned and controlled by members – there is no VAT to pay.
The Service will be of interest to our smaller members, around 20 of whom each have an annual procurement spend below £20m and have either very limited professional procurement resource, or none at all.
Ensemble Purchasing offers:
Professional procurement management for areas of spend selected by each member, commensurate with a "superior" specialist procurement organisation
Improved supplier relationship management, contract management and risk management
Demand management and cost reduction programmes
Regular spend and benefits reporting
An improved sustainability profile
The opportunity to up-skill managers in procurement, contract management and other commercial disciplines
Assured continuity of service and freedom from the burden of staffing and managing a stand-alone procurement function at a fraction of the cost
A tax-efficient partnership solution
For more information about Ensemble, and how to participate, contact Don Bowman.
Free Membership of The Energy Consortium (TEC): Members can access collaborative energy buying arrangements for the public sector. The cost of TEC membership is between £250 and £750 per year for each organisation. LUPC has agreed a discounted membership fee for LUPC members, which is paid by LUPC for their full members using TEC agreements.
Membership of AIRMIC: The association for everyone who has a responsibility for risk management and insurance in their organisation, available to members of the LUPC Insurance Group.
Membership of HEPA at a discounted rate: HEPA is the Higher Education Procurement Association and provides a wide range of resources, news, e-learning and peer to peer discussion opportunities to those in procurement roles. For more information on this, please contact Suzanne Picken.
All of LUPC's framework agreements are developed, tendered and managed with input from our members.
LUPC's Category and Framework groups bring together members from procurement and technical professions with a special interest or expertise in specific goods or services.
LUPC Category Groups identify member need, compile specifications and submit sourcing strategies to our Executive Committee for approval. Often this will involve drafting tender documentation and evaluating tender submissions from suppliers. Usually chaired by a member representative, each group is supported by one of LUPC's senior category managers.
Category groups are also key to managing relationships with suppliers on behalf of the consortium and reviewing supplier performance throughout the life of a framework agreement.
Details of our Category Groups, including how to join, can be found here.
Some categories are managed nationally or inter-regionally in collaboration with other purchasing consortia. These may be supported by national working parties or category groups in our partner consortia.
LUPC has appointed Central Business School to deliver classroom-based or online CIPS courses in Procurement and Supply for members' staff. The courses are for CIPS levels 3, 4, 5 and 6 and apprenticeship students running throughout the year, and are available at discounted cost. Students can start courses in September, November, January, March or May. 
Provider: Central Business School
Location: Russell Square WC1 or online via Zoom
Course duration: One year (8 exams)
Course costs
- Apprenticeships Level 4 - Free if you can recover the Apprenticeship Levy
- Level 3 - £925 + VAT (usually £1,040 + VAT)
- Level 4 - £1,230 +VAT (usually £,1375 + VAT)
- Level 5 - £1,230 +VAT (usually £,1375 + VAT)
- Level 6 - £1,230 +VAT (usually £,1375 + VAT)
CIPS textbooks for each module are £210 per level (includes p&p). (Made up of 2 full modules @ £42 each and 6 @ £21 each). LUPC will pay this cost for our full members to support their staff.
Other costs – to be paid by the student or member
CIPS membership– £191
CIPS Exams - £700 per level
Full details on the courses are available here. For more information, you can visit Central Business School's website.
How to register:
To be sent a registration form or to discuss further, please contact David Morton at davidm@centraleduc.com or give him a call him on 07775 906024.
Alternatively, please contact Don Bowman at d.bowman@lupc.ac.uk or call him on 07931 862285.